It's the time of year when lingering New Year's resolutions meet the harsh reality of bathing suits. But there's still time to crank up your fitness routine, and there have never been more ways to liberate yourself from a gym and build your own custom workout routine for wherever, whenever, and however you want to work out.
From smart rowing machines and stationary bikes to digital kettlebells, to apps that track your weight and metabolism, and chart your progress minute by minute. But navigating the volume of new fitness gear and tech can be daunting, so I put myself through countless workouts, app setups and learning curves to help you figure out what might be right for you to invest your time, money, and energy in. 
Ergatta Rower  
No piece of equipment works out more of my body in as little time as a rowing machine does. But, it can be hard for me to get excited about staring at a little grey screen on the Concept rower at my former gym while everyone on the other machines watches CNN or some HGTV house flip. Enter the Ergatta Rower: a rowing machine paired with a big flatscreen featuring HD watery vistas around the world and profoundly addictive racing games.
Starting with a base of a beautifully crafted wood WaterRower that mimics the feel of actual rowing (I rowed on my high school crew team—not particularly well, but enough to vouch for this claim). Then the Ergatta adds an enthralling gamer experience that successfully hacked my addictive and competitive sides to make me work out harder than I ever would without an instructor yelling in my ear. With detailed stats, monthly and weekly challenges, global leaderboards, and optional MMO-style competition with other Ergatta owners around the world, the interface will burrow into your competitive nature and make you push yourself harder than you know you're capable of.
Even when I only have a few minutes to work out, I'll sign up for a quick race against the times of other rowers. After a countdown reminiscent of the old arcade game Pole Position, I explode off the starting line for the chance to see that "1st" by my name, and then push myself to keep it there, and before I know it, I've just had an intense workout in under five minutes. The hardware is pricey but pretty, and because it's relatively light (around 100 pounds with water) and has a vertical footing option, it easily stands up for storage when you're not using it and looks like a piece of mid-mod furniture. $2,199 + $29 monthly membership
Future Personal Training App
One app to rule them all: the challenge with all these new 'smart' workout devices is that they all have their own app and usually their own paid memberships, so you really have to commit to one to justify the subscription fees. But with the Future personal trainer app, there's a real person in contact with you every day who is building your workouts around whatever gear you have access to. So, no matter what you have at home or while you're traveling––bike, rower, heavy bag, weights, treadmill––your trainer can incorporate them into your workouts so you don't have to keep several subscriptions going at the same time. Conversely, they can also build a workout for you if you have no gear at all. 
I've been working out with a personal trainer through Future for over a year. I started after my gym closed for the Covid lockdown and I went into a phase of 5 o'clock somewhere and snack o'clock everywhere that finally caught up to me. My excellent trainer, Lizzie, helped me turn my house and a nearby park into my new "gym," and now I have no desire to go back to my old gym routine of circling the parking lot, waiting on someone hogging a machine while they're on their phone so I can finish a set, or wiping someone else's sweat off the treadmill.
When you sign up, Future sends you an Apple Watch to use for the duration of your membership to track your heart rate, calories burned, and overall movement so your trainer knows exactly what's going on with your body. After months of daily texting, my trainer now feels like a real friend to me. She adjusts my workouts constantly based on my feedback––movements I like or don't like, swapping out simpler exercises when I'm traveling and without access to gear, making my workouts shorter if I've got a busy week at work, or moving my workouts around if I wake up feeling drained and want to swap today's HIIT with tomorrow's yoga. She even helped me through a shoulder injury by consulting with a physical therapist to build a workout dedicated to shoulder recovery. Of all the fitness products I tried for this piece, Future is the one that has changed my life the most. $150 monthly
Beachbody's MYX II Plus Bike
The MYX II bike is made by Beachbody, of 90X fame. And it's a bike for people who want more choices than they'd get with other popular bikes. It's the only bike that allows the option of two different subscription services: Openfit and the newer BODi – both cost around $29 per month, both offer live and on-demand classes, and both have class options on the bike and beyond, with yoga, Pilates, weights, and more. If you order the MYX II Plus, it comes with a workout mat, dumbbells, a kettlebell, a foam roller, and a resistance band to use in the off-bike workouts. And because the screen on the MYII swivels to face away from the bike, you can easily use it as a monitor for off-bike workouts.
The element of choice trickles down to the design of the bike itself, with more adjustability of seat and handlebar positions than another popular bike, plus with the MYX II, the pedals work with SPD cleats or can easily be flipped and used with regular shoes. Speaking of the shoes, I used Shimano IC1 Shoes ($100) and found them to have the best balance of rigidity and ease of getting off and on. The MYX II comes with a Polar heart rate monitor that conveniently charges via USB in the back of the display, but the bike also syncs with apple watch for heart rate. Because your heart rate is the basis of the workouts, it's good to have yours in synch with the bike at all times.
Synching with Airpods over Bluetooth was easy and reliable, but the MYX II has 20-watt speakers if you prefer not to use headphones. It also has a Sony 8mp camera in the monitor for live classes. What's particularly useful about this feature is that if you give your trainer access to your camera, they can evaluate your form in real time and offer tips, just like in an in-person class. $1,599 + monthly membership
BRRRN Board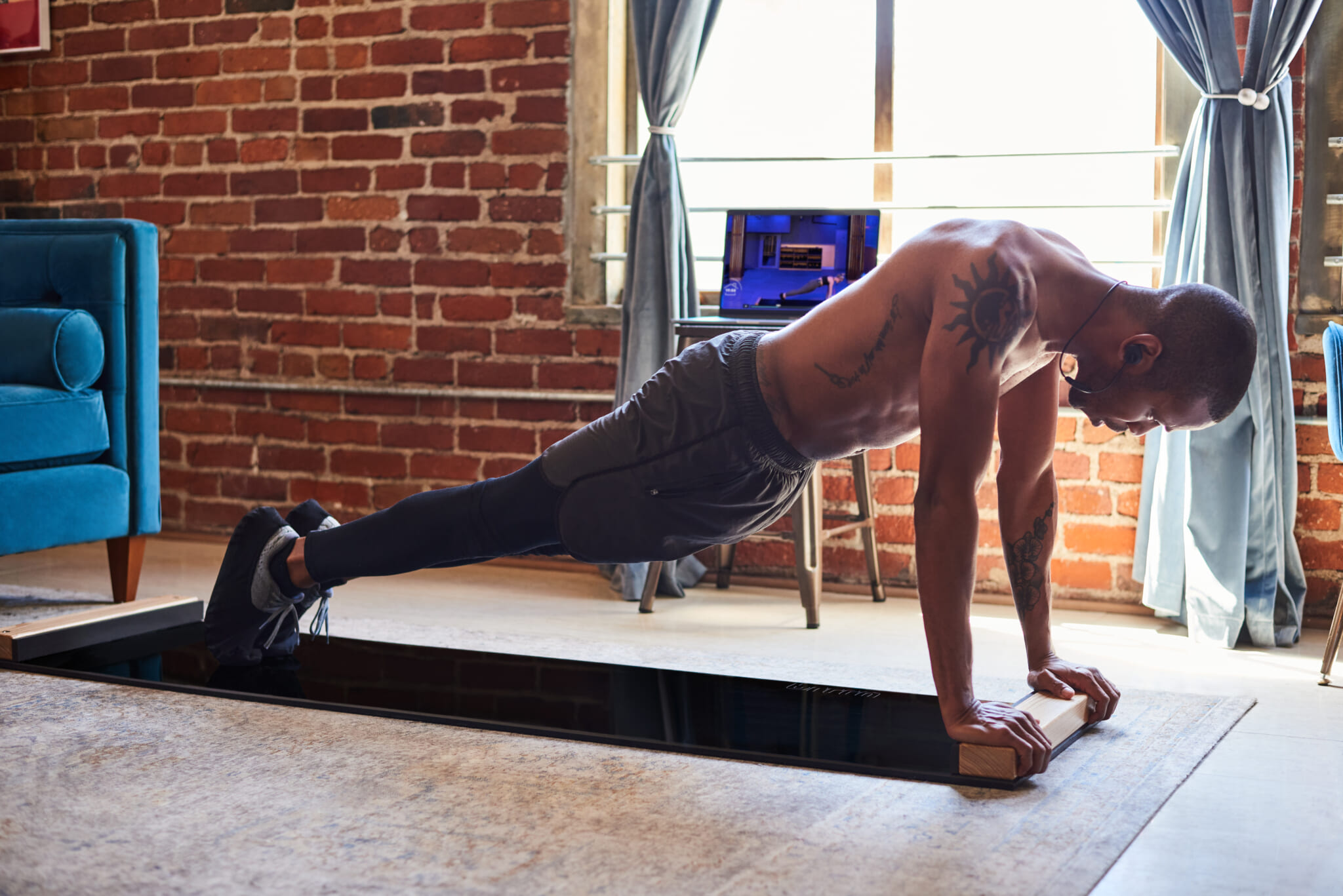 The BRRRN board may have one too many "R's" in the name, but it's one of the coolest, simplest, and most effective pieces of home workout gear I tested. Deploy it on your floor, give it rub-down with an ArmorAll wipe, put on the included booties, and you're left with nearly no friction for smooth. high-intensity workouts with low stress on your body. Things like lateral lunches that can be rough on the knees are smooth as silk on the BRRRN Board.
You can work out hard, or you can take it easier and use it while watching TV or listening in on a conference call. To me, the killer application for this is the zero-friction ab workouts (like the guy pictured). After doing Mountain Climbers on the BRRRN, I don't want to do any other abdominal workout from now on. To get the most out of it, I'd recommend the subscription service for classes.  If you buy the bundle, you get a full year subscription for $49, otherwise it's $149 for the year. For storage, it's fairly large and not exactly light, but it's flat enough to fit against a wall behind a piece of furniture or under a bed. $299
NOSSK SUSPENSION TRAINER
This is the bang-to-buck king of home workouts, and you can bring them anywhere. I bought a NOSSK trainer two years ago as an affordable TRX alternative, and after two years of using it, I am blown away by how well they have held up. Made in the USA, each NOSSK strap has an integrated door anchor, giving you two anchor points rather than both straps attaching to a single door anchor that is a separate accessory.
Not only does this save you the hassle of keeping track of a separate door anchor, but it also gives you more control over the width of the straps: anchor them farther apart for suspension push-ups, or closer together for triceps extensions, for example––or just use one strap alone for one-arm rows. They also come with carabiners if you prefer to anchor to an eye hook or around a tree branch in the park. For the price, I'd be hard pressed to think of a more versatile and economical piece of workout equipment than this. $48
Vuori Workout Clothing
Workout shorts and pants can be deceptively difficult to shop for. Buy the cheap stuff and it falls apart after one round in the washing machine, but it's hard to tell from Instagram adds which of the expensive versions are worth buying. After testing out Vuori pants and shorts for several months and several laundry cycles, I can safely say that they're excellent. In particular, their Kore Short, Banks Short, and Transit Jogger Pants are my personal favorites. My choice for colder weather is the Transit Jogger, and the Banks Short is my pick for warmer days. I will be buying more of these, and I will never mess around with sub-par workout shorts again. Prices Vary
MerinoTencel Sweatpants by Unbound Merino
Unbound Merino makes exquisite basics that include my all-time favorite T-shirt, and these Merino wool, Tencel + Spandex sweats are the Platonic ideal of sweatpants. They're soft, breathable, and won't overheat. And because the wool blend wicks moisture and dries quickly, they don't smell like cotton or synthetic pants can after a workout. If I was the founder of a large tech company (or a cult) and everyone let me do whatever I wanted all the time, I would probably live in these sweatpants. $145
BlueAir Pure Fan Auto
The one gym aspect you absolutely don't want to recreate at home is the smell. Keeping a good automatic air filter going at all times will make sure that doesn't happen. I love this air filter: it looks good, it's quiet, and most importantly for me––the replacement filters are not expensive compared to others out there ($25, compared to $70 for a Dyson filter). Plus, I love that you don't have to download an app to set it up and control it. I think we all have enough apps on our phones already, and this automatically shifts into high gear whenever it senses impurities in the air, so you never need to fiddle with it. $225
Upright GO 2 Posture Trainer
This simple but effective little device will give your posture a workout––helping you look and feeling better all around. The Upright GO 2 posture trainer connects to a (free) app, and after calibrating it to your normal good posture, you can wear it for hour-long training sessions where it will alert you any time you start to slouch. I did it an hour a day, and after a few days, I was surprised by how much better my posture got. I felt taller and breathed better throughout the day.
This will benefit not just your form in your workouts but your overall well-being and not to mention, perceived height. You can attach the sensor to the center of your upper back with included adhesive stickers, but I recommend buying the silicone magnetic necklace so you can easily take it on or off without sticking anything to your skin. $80
Theragun Mini
The original Theragun is a proven muscle recovery tool, but the Mini gets the job done in a size that's much easier to travel with, or to throw it in a workout bag. It has three speed settings, holds a charge very well, and comes with a neoprene carrying case. For those hard-to-reach places, the Therabody Wave Duo ($99) makes it easy to get to places like your mid-spine that you can't easily reach with a Theragun.
And for a more serious recovery option, the Therabody PowerDot 2.0 give you a pro-athlete tool at home. Electrodes adhere to your skin, so you can deliver muscle stimulation exactly where you need it for recovery. The free app allows customizable treatments, and the overall package is highly portable so you can take it with you wherever your workouts or adventures take you. $99-$349
Nike ZoomX Invincible Run Flyknit
What makes these running shoes so great is how easy on your body they make running. If you prefer running on a treadmill to running on pavement for the sake of your knees, these shoes are specifically designed for maximum shock absorption above all else. These are not the shoes to run a marathon in, but the shoes to train in that won't make you miserable walking up a flight of stairs the next day. And the Nike Run Club app, one of the first popular fitness apps and still one of the best, is free. So, if you're like me and your former gym treadmill is now your local park, pair the ZoomX Invincible Run with the Nike Run Club app for rewarding runs with minimal wear-and-tear on your body. $180 + free Nike Run Club App
JaxJox Kettlebell Connect 2.0 
Kettlebells brilliantly combine cardio workouts with muscle building like nothing else. But, they're a bit bulky to keep multiple sizes around your house. JaxJox's smart kettlebell solves this dilemma. Just dial up the weight you want on the digital interface – six increments ranging from 12-42 pounds – and you have a full gym's worth of kettlebells and the touch of a button. The JaxJox app (paid subscription) has a plethora of targeted and full-body workouts and exercises and tracks your progress and stats. JaxJox also makes excellent smart dumbbells that pair well with the kettlebell for a home gym. $249
Powerbeats Pro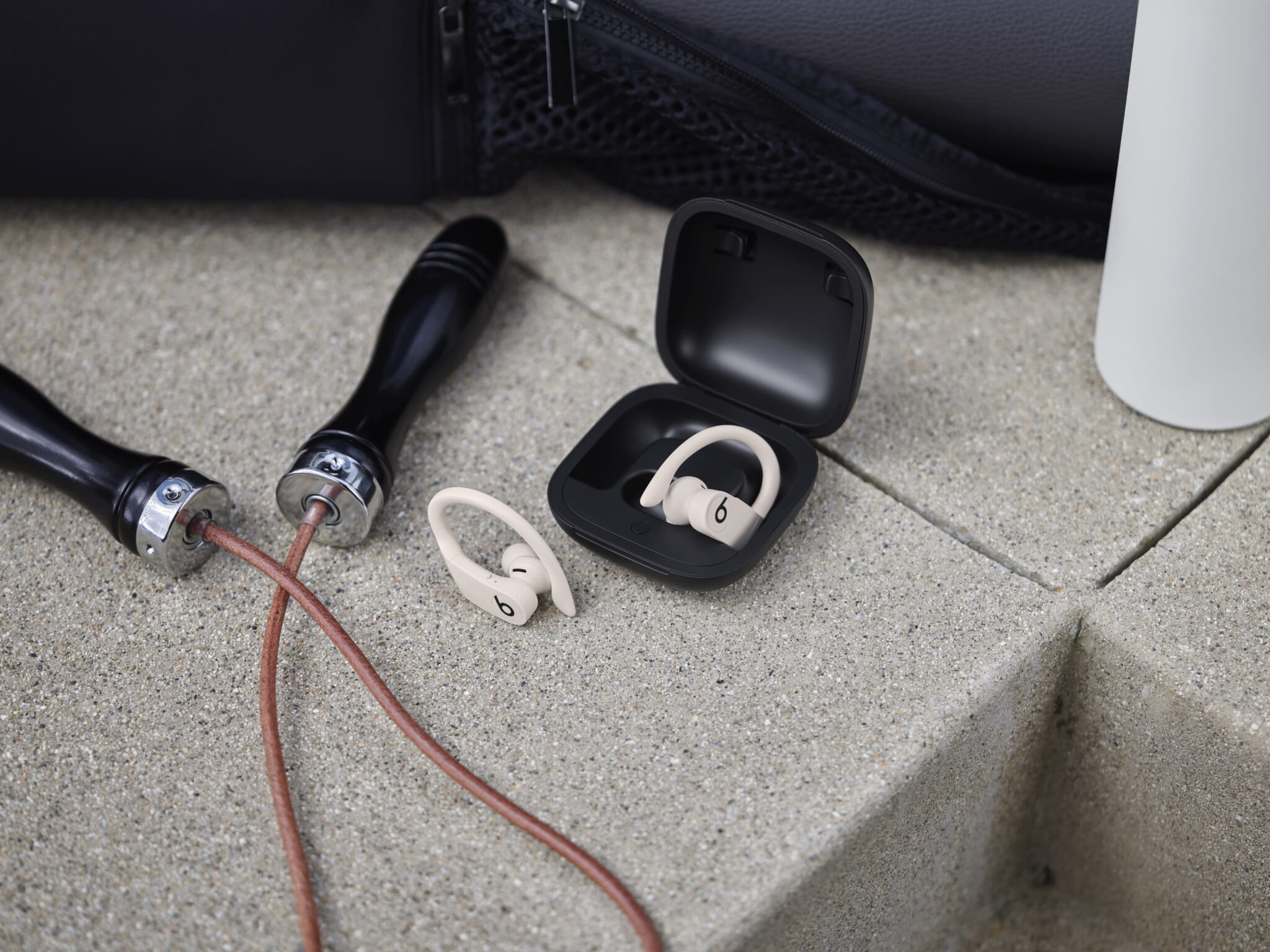 I love AirPods Pro's for phone calls, but when I work out, the Powerbeats Pro are the better choice by far. They will stay in your ears for a sweaty run, an inverted in a yoga pose, or when you're jumping around in a HIIT workout. There's no active noise cancellation, but the tight is snug and sound quality is superb, so I don't miss it during workouts. Because they go over your ears, they're a little awkward with sunglasses (both competing for limited over-ear space) but these are the best sounding wireless earbuds for working out that I've ever tried. $199
Lumen Metabolism Tracker
Often called the gadget that lets you to "hack" your metabolism, the Lumen takes measurements of your breath to let you know you what state your metabolism is in––whether you're burning all fat, some fat, some fat and some carbs, or all carbs, etc. If you're into a Keto diet or intermittent fasting, or even if you're not, the Lumen will help you confirm what metabolic state your body is in so you can eat, fast, or work out accordingly. A subscription is required to use it, though the app offers more functionality than simply measuring your metabolic state, tracking you weight and meals, and offering custom nutrition and workout plans based on your metabolism and goals. $249
NOOM APP
Noom is the king of the weight loss and nutrition apps. In its daily educational courses, it teaches you how to think of food in terms of caloric density so that you can form healthier eating habits. And with an interactive online community within the app and daily weigh-ins and caloric input, it helps keep you on track with a specific timeline for when you will hit your ideal weight.
It's a commitment—particularly weighing in daily and inputting your meals and snacks, but I have no doubt that it works if you make that commitment, as I have many friends who've lost a lot of weight with NOOM. I loved the educational aspects, and the way it changed my thinking about certain foods, and if weight loss is your primary goal, Noom will make that happen much faster than exercise alone. Subscription Cost Varies
Withings Body+ Scale
With any serious diet or workout plan, having a scale is crucial for monitoring your progress. This smart scale tells you your weight and body fat, muscle mass, and body water content, and charts it over time on Withings' free Health Mate app, which also syncs with Apple and Android wearables and automatically adds your workout info and daily steps. $99
Larq Pure Vis UV Purifying Water Bottle
This smart water bottle is one of the coolest pieces of gear I've tested in a while. The UV light kills off any harmful bacteria, so if you're on a run and refilling your water at a public water fountain, you can make sure it's safe. Plus, when you're traveling or out in the woods, you can do a double UV treatment and make shady tap water or even mountain stream water safe to drink. It holds a charge for a long time, so if you're in an area prone to natural disasters, you can keep this as part of your emergency kit if your water source may be compromised. $118
Kleankanteen TK Wide
I've never thought that having to unscrew a bottle and lift it up to drink was inconvenient, but the twist cap version of this Kleankanteen bottle is the hydration convenience I never knew I wanted. A little half-twist of the cap, and a silicone straw pops up, so when you're working out, you can just leave it open with the straw at the ready––which makes hydrating while riding a stationary bike or between sets much more efficient. And in case you're wondering, the straw is also much better than a squeeze bottle. Plus, even with a generous 20-ounce capacity it's the perfect size for cup holders. $35
Sound Supplements Sleep CBN Softgels
For overall fitness, good rest is critical. And on those nights when I stay up trying to ponder the world's problems, this 5mg CBN supplement puts me swiftly into a solid slumber. CBN is a cannabinoid compound known to help with sleep. Unlike its cousin CBD, which has no psychoactive properties, CBN is psychoactive in large dozes, but according to WebMD, it's only 25% as effective as THC. I felt nothing other than restfulness at the 5mg dose, and CBN is entirely legal if derived from hemp. $34