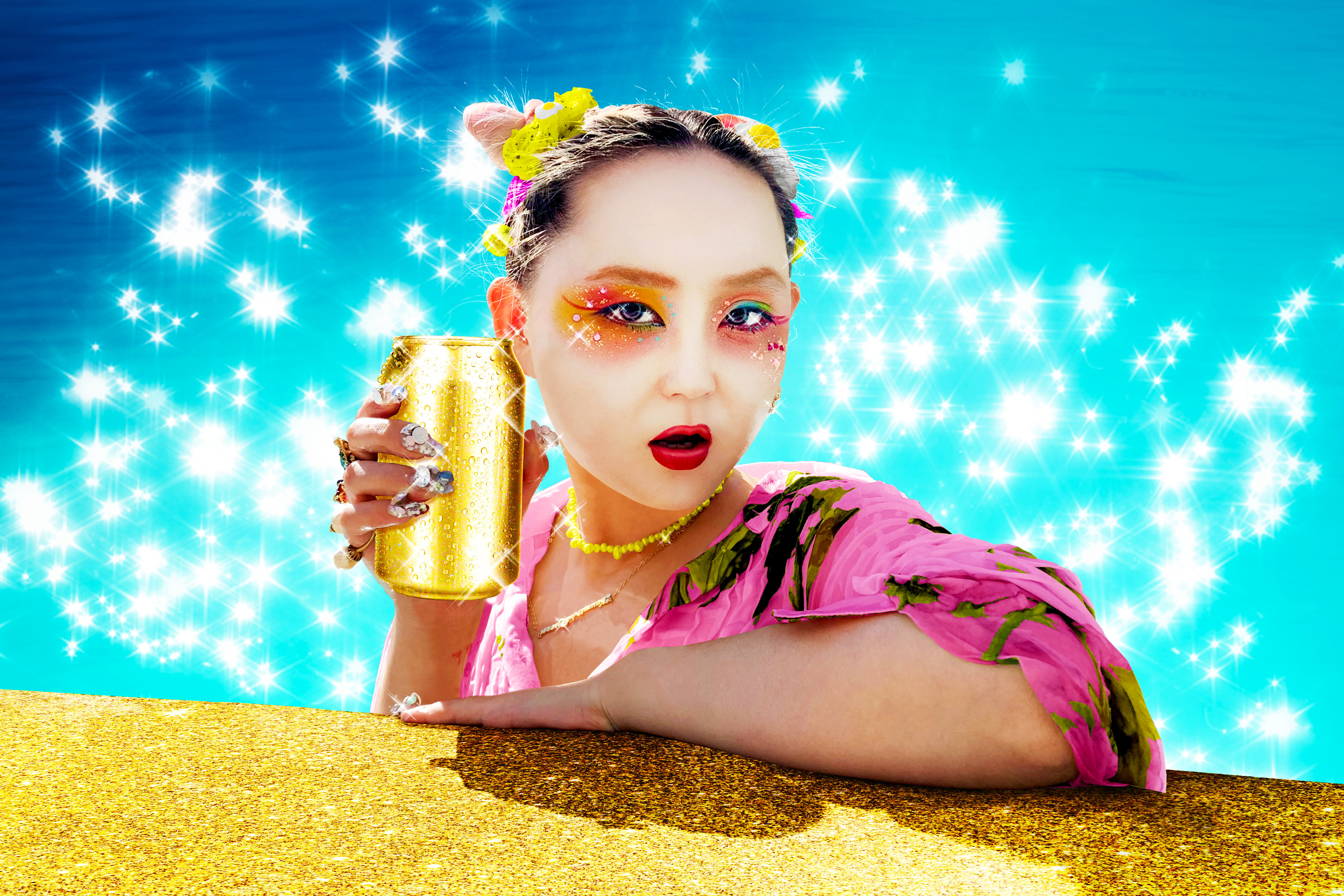 Colorful, charismatic and just ever so slightly insane, New York-based artist and performer Alice Longyu Gao makes an impression. A self-professed "Princess of Manifestation," Gao has been making things happen for herself with everything from bread-based self-love anthems to an Anna Delvey-inspired ode to scamming that garnered her a fan in Selena Gomez. Flexing a delightfully left-of-center sense of humor and a knack for a catchy hook, it's easy to be completely charmed by Gao.
None
Linking up with producer extraordinaire and 50 out of 100 gecs, Dylan Brady, Gao is back with not just one, but two brand new singles. Releasing on Brady's imprint, Dog Show Records, "Rich Bitch Juice" and "Dumb Bitch Juice" see Gao in top memetic form. Both known for having off-the-wall approaches to making art, Brady and Gao easily bring out the best in one another pushing each other to lean harder into the whimsical, the ridiculous and the outright strange.
None
Related | Alice Longyu Gao Is Feeling 'Magnificroissant'
None
"Rich Bitch Juice" finds Gao tapping into her swaggering bad girl persona, snaking lyrics about luxuriating by the pool in between a loud clunking trap beat. Avoiding the clichs of materialistic wealth, Gao in turn defines richness as being well-rested, a comfort that today's attention-driven gig-economy rarely affords us. That being said, "Rich Bitch Juice" is an unabashed banger and is perfectly fine making it rain on even the most buttoned-up functions.
None
On the flip side, is the glossy tire-squealing pop glazed bop "Dumb Bitch Juice." Sounding like if SOPHIE suddenly dropped everything to become a TikTok celebrity, "Dumb Bitch Juice" is everything you could possibly want it to be and more: a fun, flirty, relatable anthem for making dumbass mistakes over and over again and ultimately just embracing it. Co-written by Vine veteran, Left At London and also produced by Dylan Brady, the sugar-coated track provides a nice counterpoint to its sister single, showcasing yet another side of Gao's zany over-the-top aesthetic.
None
Ahead of the PAPER premiere of "Rich Bitch Juice" and "Dumb Bitch Juice," we caught up with Alice Longyu Gao to chat about how she and Dylan Brady met, comedy and what the future has in store.
None
What was the inspiration behind the songs?
I respect, adore and love Dylan so much, so I was trying to come up with something cool to work on for our session that morning. Out of nowhere, the "Rich Bitch Juice" hook came out from my mouth, and I thought of this meme this vibe is everything I need, my career has been growing better and better, but the anxiety never goes away. I never feel like I am enough and I am always chasing the next thing, during this process, what really makes me happy?
None
Along the same lines, how did "Dumb Bitch Juice" then come about?
After we wrote "Rich Bitch Juice," Dylan sent me another meme that says "Stupid Bitch Juice," and it was such a mood, so we created "Dumb Bitch Juice." I had this girl who is such a slave to cute boys in my mind. Overall, a lot of the time I listened to my released and unreleased songs, I realized I write my own reality, I make my lyrics become my reality. So Rich Bitch and Dumb Bitch are both me.
None
What does "Rich Bitch Juice" mean to you?
I hope one day I can genuinely chill out and feel like being myself is enough, being here is enough, and be grounded. My astrologist said I will work so hard till I am a very old lady. I literally cried right after heard that. I am so tired man.
None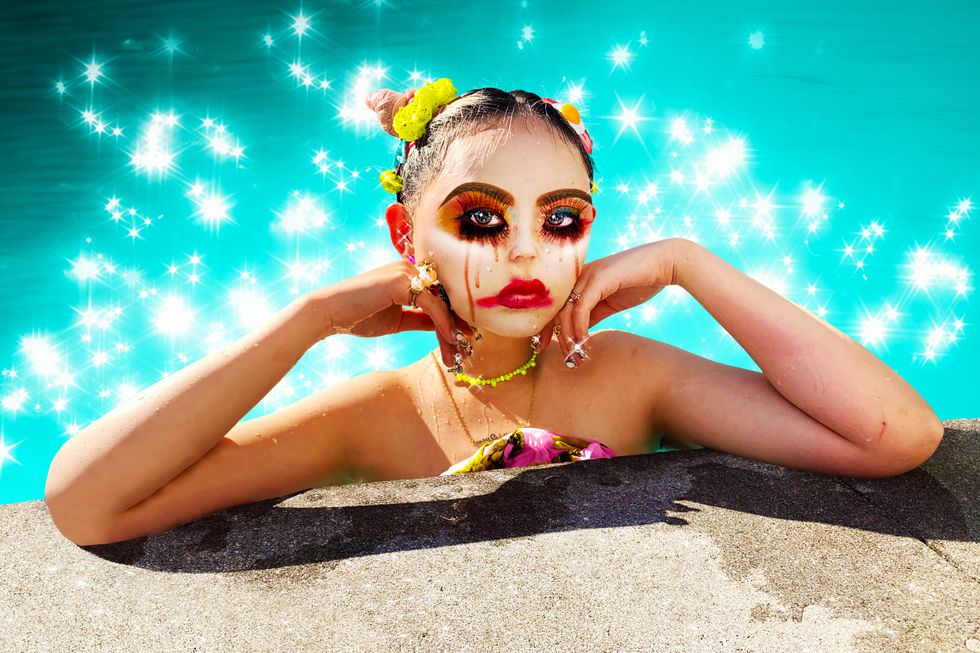 None
When was the last time you caught yourself sipping hard on the "Dumb Bitch Juice"?
November 2019. Can't go into too many details, but man I love cute boys, what can I say? I lose my shit when I see cute faces. Come to mother.
None
You've described yourself as being a bit of a stand-up comic in addition to an artist. What role do you see comedy playing in your music?
Alice's life is here to be a boss and have a great laugh. I love dissing people I couldn't agree with or stand, and things I found funny, is that bad? My songs are all inspired by these things, like my song "Scam" for Anna Delvey. I just love making fun of people and telling jokes, I want to have The Alice Show one day. So I do prepare small funny things I want to say at my shows in-between songs, and when people "get" them I am just so happy.
None
Related | Jarina De Marco Is Taking a Stand Against Colorism
None
How did you and Dylan Brady initially link up?
I have to thank my fairy godmother Jarina De Marco. I was working with her for my songs. She is an amazing songwriter and rad artist herself. She said she has a session scheduled with this producer named Dylan Brady and she felt like I would like him. And I was like, "Of course let's do it." But the day of our session I was in a little bit of a heartbroken mood. Usually I am super prepared for my sessions, but that day I didn't have time to listen to Dylan's previous music and I didn't even know who he really is. I said I want to write a piano ballad, and Jarina was like, "That is not really the vibe here." Anyway we ended up making this sick song called "Kiss Jesus on the Lips," based on my heartbreak. That session was so good and I became obsessed with Dylan's talent and his great soul, so I just kept chasing him to work together again, and the rest is history. I am incredibly grateful and lucky.
None
What can we expect to see from you in the future?
I will release two more singles and an EP in 2020. There will be a "Juices" EP, too. So for example, "Side Bitch Juice," "Smart Bitch Juice," "Great Bitch Drink Grapefruit Juice." Hopefully I get to work with Dylan on some of them. And I will probably put out an interactive sound sculpture art installation in 2020.
None
Photography: Youth Hymns