Give newlyweds something they will use and cherish forever with one of these DIY wedding gift ideas. These ideas are made with a Cricut and are easily personalized.
When a friend or family member gets married it is such a fun time to celebrate!
What better way to tell them that you love them than by gifting a handmade wedding gift?
The happy couple will love the personalization and the gift may even become a keepsake from their special day.
More Cricut Craft Tutorials:
The Cricut is our very favorite crafting tool, so naturally, we have shared lots of Cricut tutorials. Like Oh Hello Porch Sign, Bonus Mom Keychain, and Paper Flower Shadow Box Decor.
Be sure to look around the blog for more Cricut craft tutorial ideas!
Personalized Wedding Gifts:
Simply click on the title above the photo to be taken to the step-by-step tutorial.
I created this design as a wedding present for a very sweet friend. Now you can make them too!
Learn how to make this beautiful paper flower shadow box with a Cricut. The finished project makes a perfect personalized gift for any gift-giving event.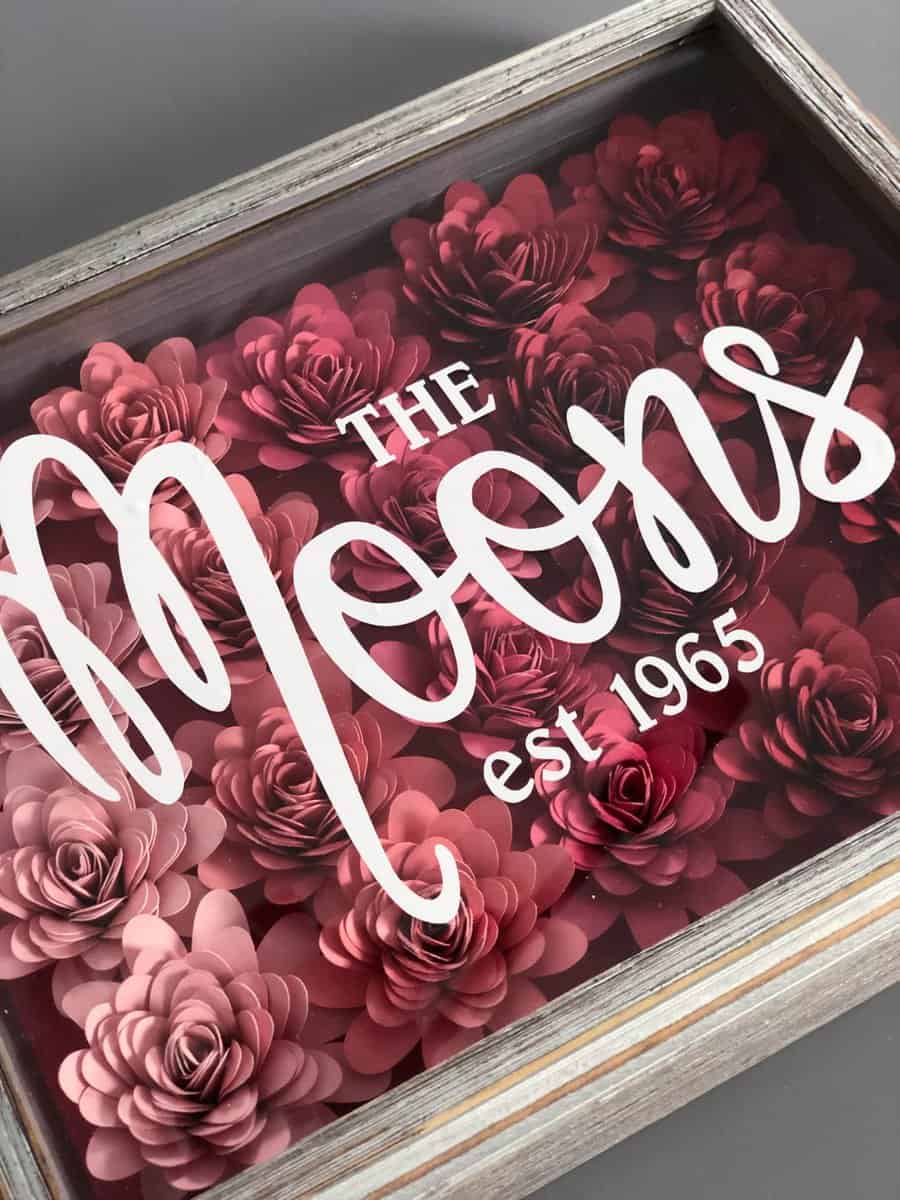 Looking for a unique and fun gift idea? This personalized ceramic platter features a vinyl monogram! It's an inexpensive gift perfect for weddings and engagements!
A personalized last name and wedding date sign is a thoughtful, homemade gift for the bride and groom that is perfect for either a wedding gift or a gift for a bridal shower. The couple will definitely appreciate this rustic wall decor piece personalized with their last name and wedding date for years.
This is fantastic for making personalized gifts or even just adding a bit more to your home.
Etching a Pyrex glass baking dish with etching cream is hands down one of my favorite things to make with my Cricut. And I think it's one of the best gifts you can make with your cutting machine, too!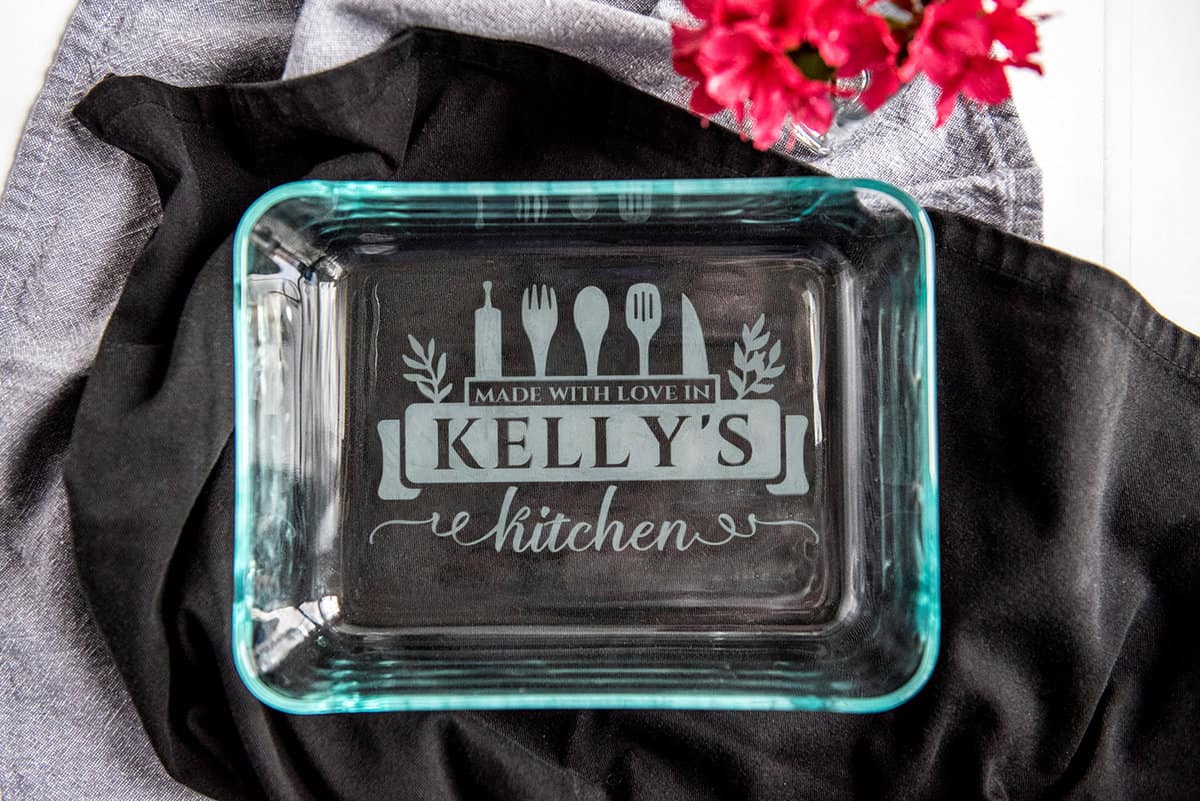 The longest part of this project will be designing your doormat stencil and properly taping it off, the spray painting takes like 1 minute. All in all, this project can easily be completed in 2 hours or less. It would be the perfect gift for a friend who just said I DO!
I love showing my love through time spent creating something just for them. Today I am making a monogram wood sign for my in-laws!
A frosted finish vinyl that turns simple text into what looks like an etched design on these fabulous champagne and wine buckets.
I love creating fun easy personalized gifts for the bride and groom. The trick is to make something they are going to actually use too, not just something that will take up space.
The perfect gift for any special occasion is a wine bottle etching. Below is the Personalized Glass Etched Wine Bottle tutorial.
These personalized slate coasters are the perfect housewarming or wedding gift you can make in no time with your Cricut.
This project is awesome and features the Window Cling Vinyl! It's great for window seasonal decor. And perfect for a 'Just Married' sign for the newlywed's car!
14. Vow Boards from Something Turquoise
Gaahhh…. you guys, I'm in LOVE (insert like 10 heart-eye emojis). Today I'm using my Cricut Maker and Cricut BrightPad to create the most romantic and heartfelt vow boards ever! These can be used at the ceremony or just a great way to keep those vows visible and on display.
So what do you do when your wedding is over and you are a teeny tiny bit sad that the planning is too? You keep crafting but switch to "home" items… like these darling personalized His + Hers Painted Pillowcases!
A simple but thoughtful personalized gift can mean a lot to the recipient, and I know that the extra special touch is always appreciated! Simply use the couple's last name initial and you have a handmade gift!
With this Cricut Etched Cutting Board, you can easily make a personalized gift that anyone receiving it will love.
In this tutorial, you'll see how to get a deep impression when you engrave harder metals like stainless steel, and you'll see how to engrave objects with handles in your Cricut Maker.
I have had these glasses in my brain for ages to make and actually saw something similar in a high-end kitchen store but the glasses were a little out of my price range at $25 each.
Wedding season is in full swing, and what better gift to give the newlyweds in your life than a personalized key hook! All you need for this project are the wedding monogram design decal, a frame with glass, hooks to attach to the bottom of your frame, and paper.
Our Crafting Essentials List:
Follow The Crafty Blog Stalker
The post 20 Personalized Wedding Gifts You Can Make With A Cricut appeared first on The Crafty Blog Stalker.