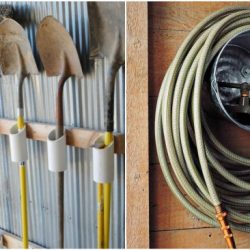 People love to garden for many different reasons. No matter your reason for gardening, you may have amassed quite a collection of garden tools. Are they in a mess in your shed or taking up valuable space in your garage? Get them in order with these genius garden tool organization ideas for everyone, from the amateur to the experienced gardener. You'll also want to check out our garden DIYs and our can't-miss garden hacks!
Garden Tool Organization Ideas to Organize Your Shed
1. Organize Extra Garden Tools in a Basket on the Wall
Do you have extra miscellaneous garden tools, and don't know where to store them? Here's an out-of-the-way idea for all those smaller gardening tools. Hang a bike basket to hold gardening gloves, twine, and other gardening essentials. You can also put a hook or nail on the wall next to it so you can hang other needed items. What a great organizational idea!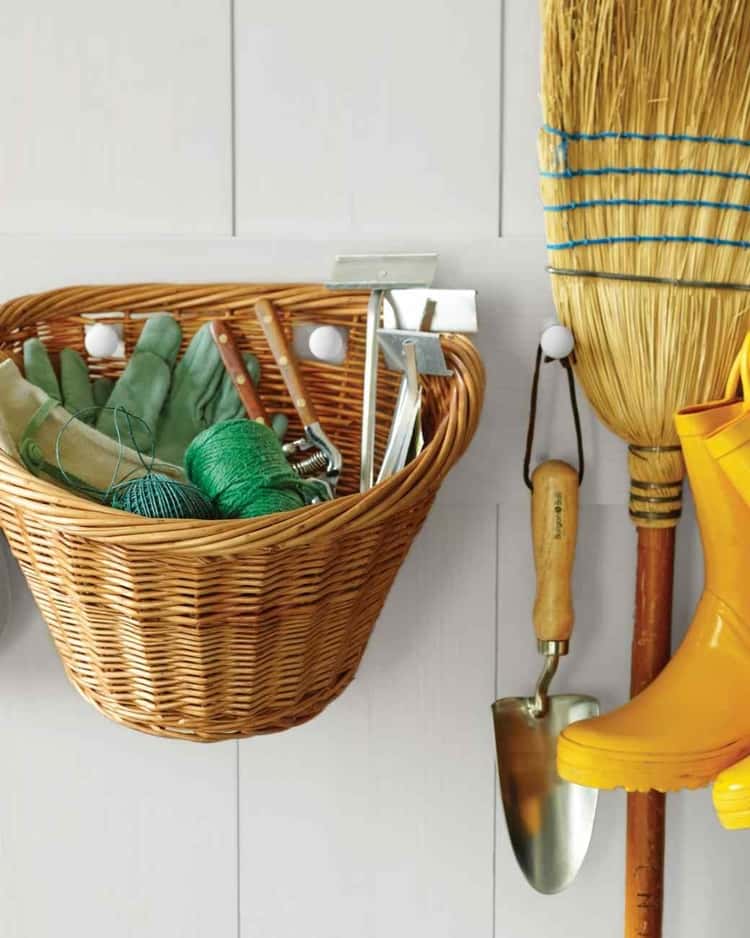 2. Use a Bucket to Hang Your Garden Hose
What a creative way to store your garden hose and keep it off the lawn! Wrap your garden hose around a bucket hung on the wall. And put garden hose attachments inside the bucket. You could put this in a handy location close to your water hook-up outside, so it's more convenient. So simple, it's genius!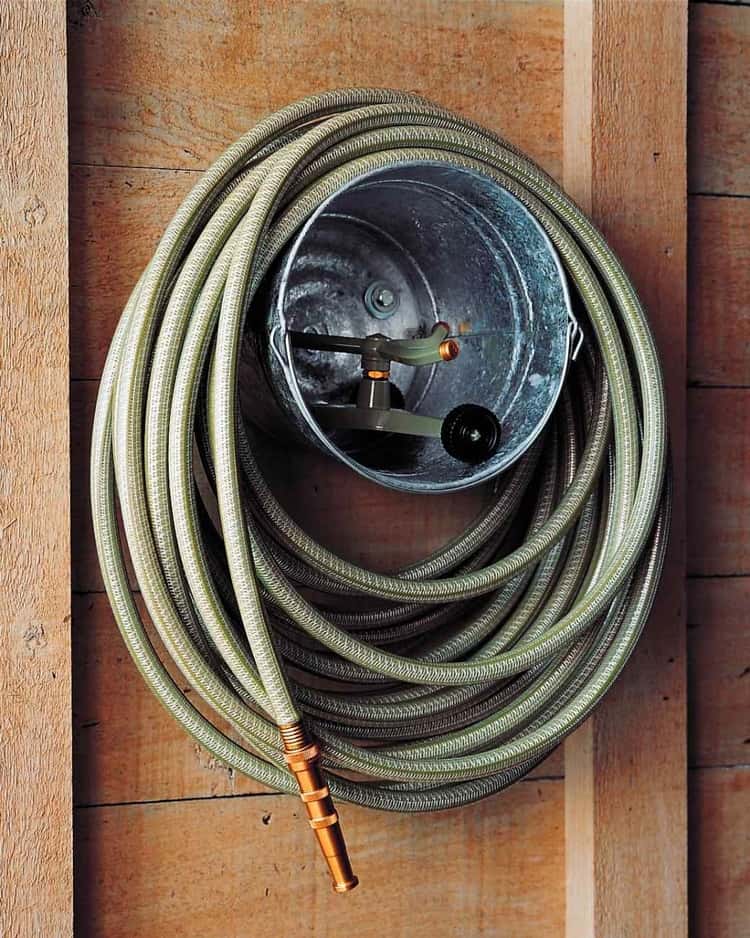 3. From Wood Pallet to Garden Tool Organization Center
Do you have an extra wooden pallet in your backyard? Why not turn it into a cool garden tool organization center? This tutorial also shows you how to install a little compartment at the top for gloves and anything else that needs to be kept dry. You can rearrange the hooks or nails any way you like depending on what tools you need to hang. How cool is this pallet organization idea?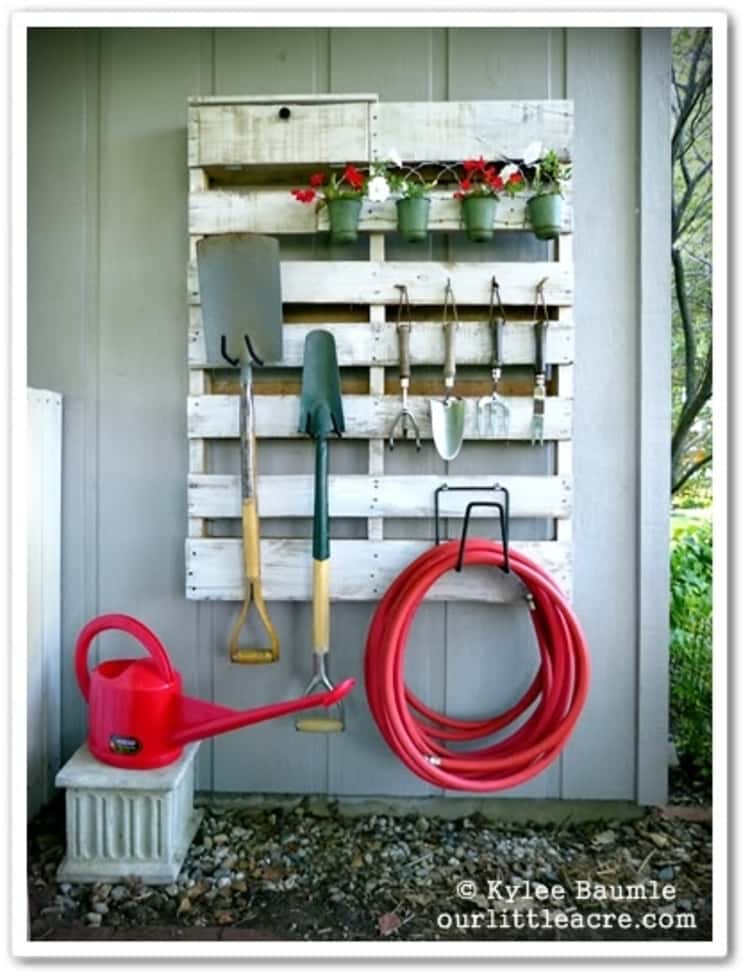 4. Create a Carry-All for Your Gardening Tools
Create a garden carry-all to take with you wherever you go in the garden. You can add some canning jars in the slots to hold smaller items like felt-tip pens and clippers. The handle makes this very convenient to carry from place to place. This is a vintage milk carrier, but you can use a shower caddie to do the same thing. Shower caddies can be easily found online or in box stores as well.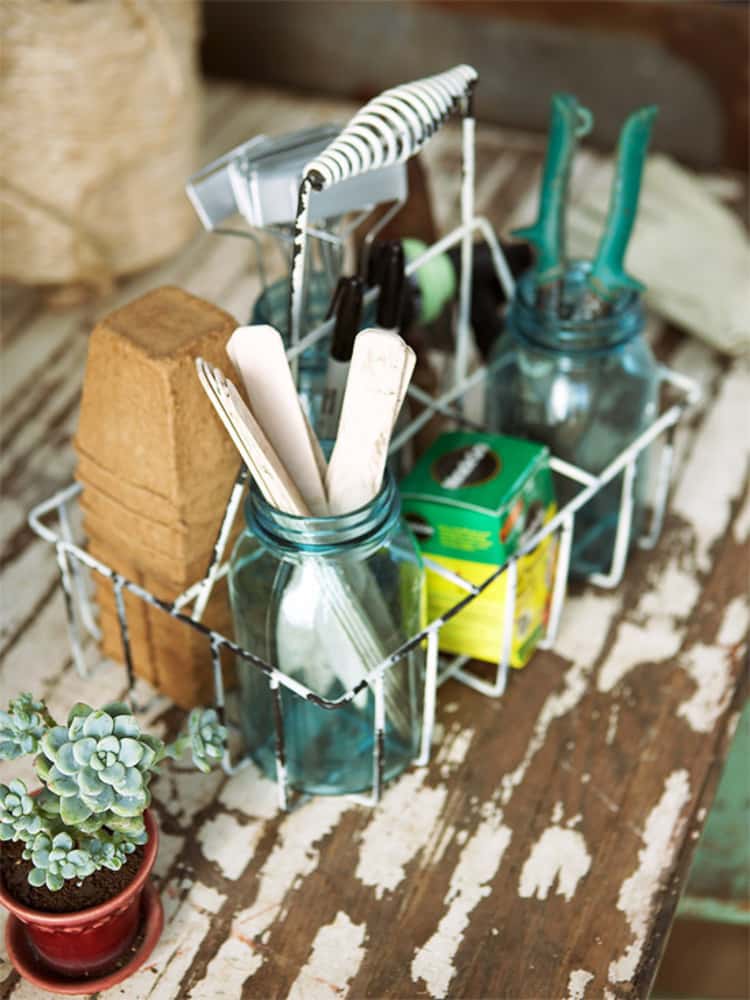 5. Hang Tools Upright with PVC
Choose one wall in your garage to organize all those tools with long handles. This homeowner used PVC pipe to get the job done. All you'll need are some scrap PVC pipe, some wooden boards and you're all set. They cut the PVC pipes at an angle so there'd be room to attach them to the boards easily. You'll never trip over the rake again!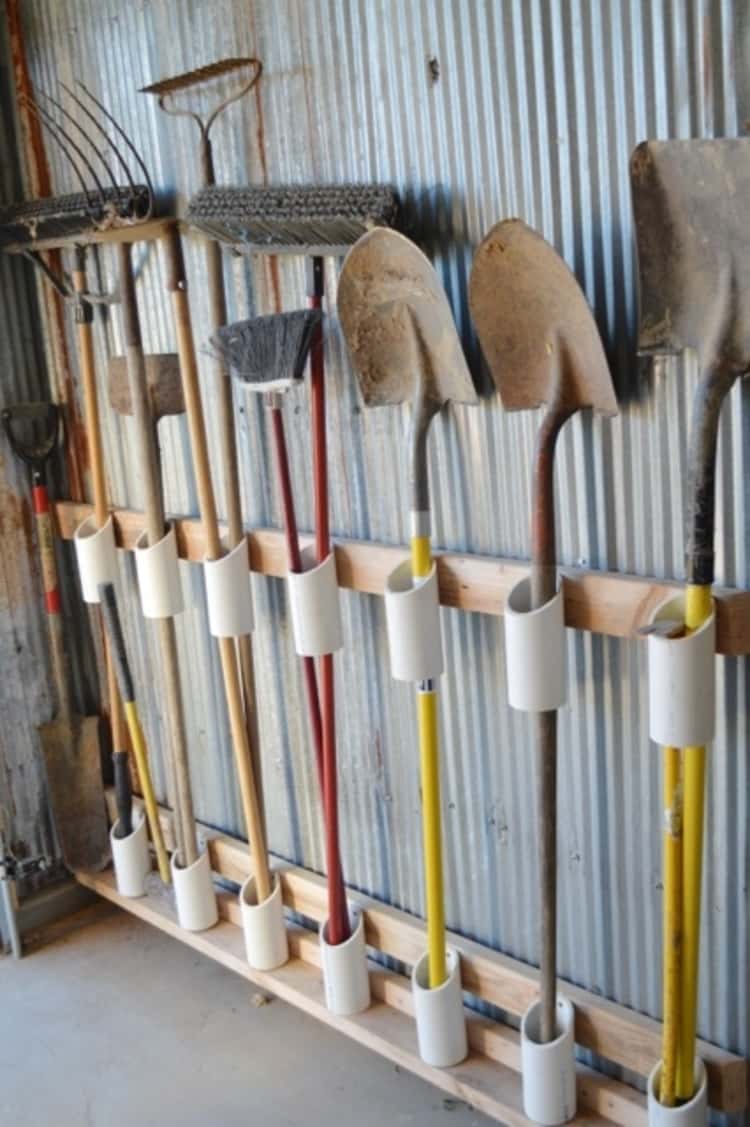 6. DIY Garden Tool Rack
Alternatively, here's a wooden garden tool rack for the large tools. It's cheap and simple and also keeps all the tools off the floor. You can make it as tall as you like if you need more tools to hang. This one is mounted directly onto the frame of the shed so it takes up very little space. Isn't this such a cool idea?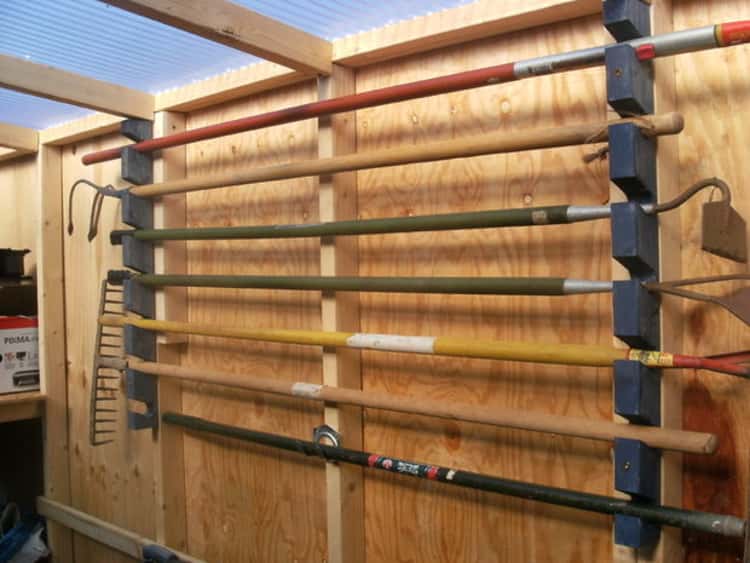 7. Make a Garden Tool Bucket Caddy
Do you have some old jeans you want to get rid of? Why not reuse some of them to create this garden tool bucket? It's free to make if you already have a bucket you want to turn into a caddy. You have pockets on both the outside and inside so you have room for things like your tools and seeds. What a smart idea… you can carry so much!
8. Hang Garden Tools from an Old Rake
Most of us have an old rusty (or even broken) rake we're not using. What a great idea to repurpose it instead of just tossing it. Upcycle that old steel rake to organize your hand tools. You can paint the rake or leave it as is for a rustic look, but remember to remove the handle before hanging. What a genius idea!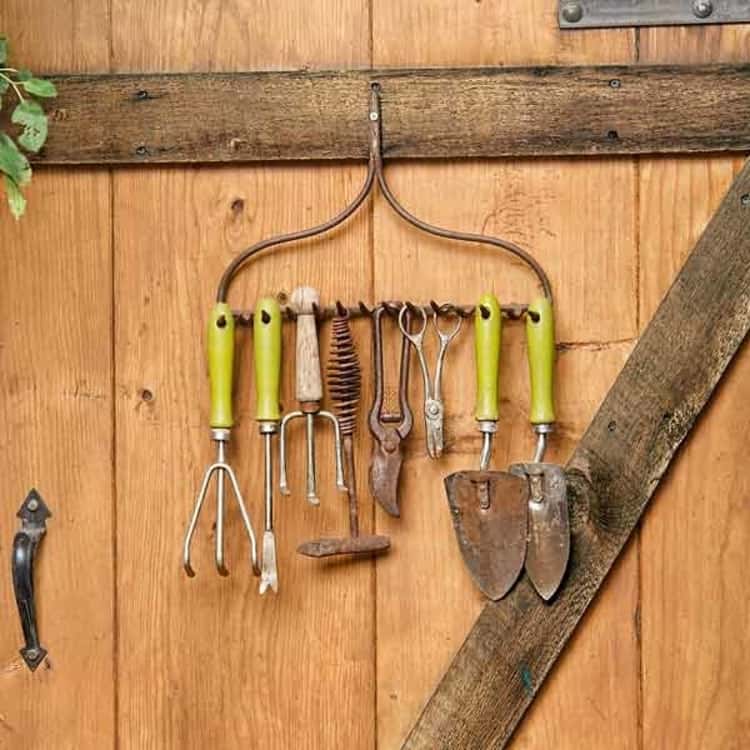 9. DIY Potting Bench with Sink and Hose
If you're not afraid of a weekend project, you'll fall in love with this DIY potting bench. The holes on the top are for easy clean up of the dirt with a bin below. When you want to cover them up, just use a piece of wood or a cutting board and you can use the potting bench to entertain! It will hold everything you need to care for your potted plants and your garden.
This clever potting bench has so many super cool features, like:
Sink and faucet plus it drains right into their flower garden
Mounted hose reel with the gardening hose ready to use
Holes in the top for easy clean up of excess soil
(and there's a bin below the holes to catch the dirt!)
There's a pegboard and hooks for hanging your gardening tools
A clever DIY twine dispenser
AND upper and lower shelves
I would love this in my backyard so I can have a handy place to garden!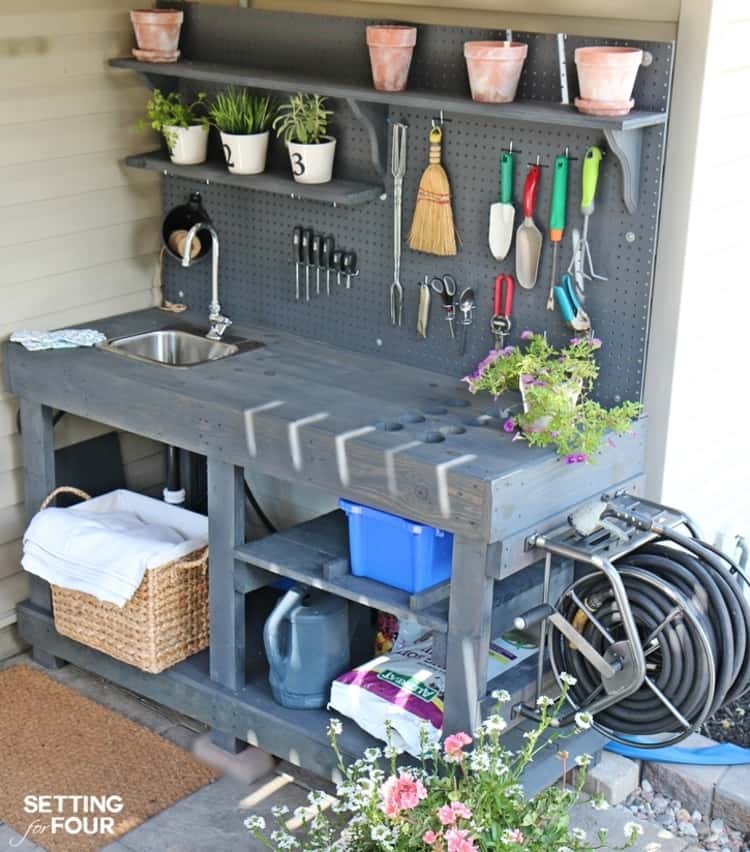 10. Mailbox Tool Storage
Do you have gardening supplies you use on a daily basis? This is such a convenient way to store them so they're easy to get to reach. Attach a mailbox to the side of a raised garden bed to keep your tools right where you need them. If need be, put a quick coat of paint on this mailbox to make it look great. What a creative idea!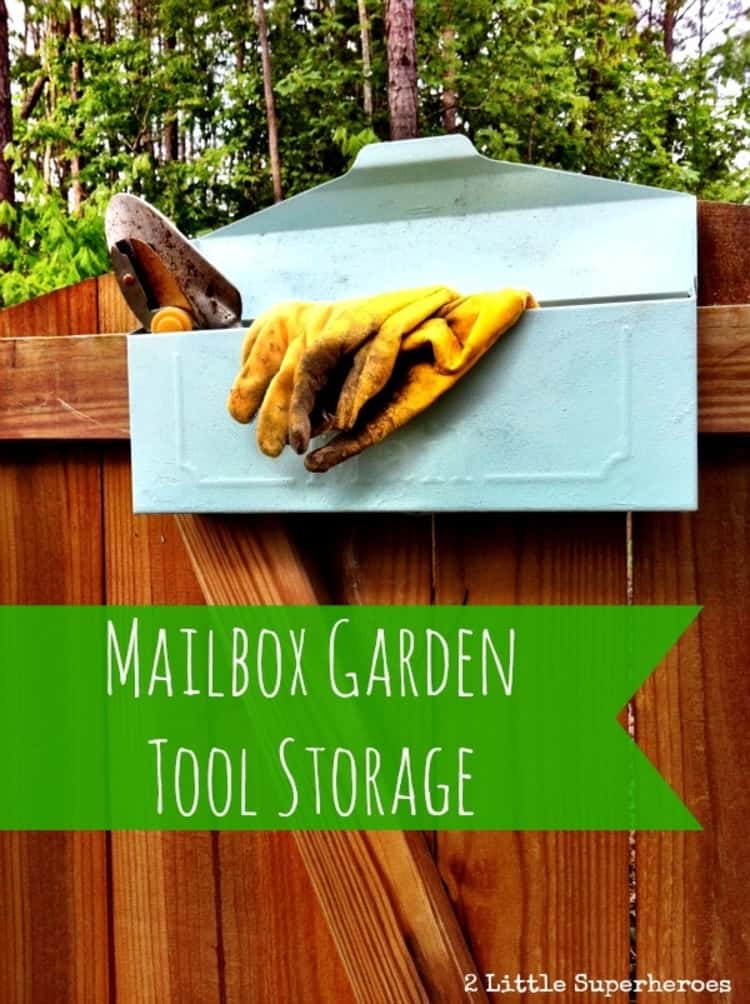 11. Decorated Mailbox to Hold Tools Near Your Garden
Install a mailbox near your garden, and put your gloves and most frequently used tools inside. How convenient. Decorate it if you like so it's beautiful. This will hold your smaller garden items and keep them safe from the weather. Plus, if you install this right in your garden, you'll never have to go searching for your tools.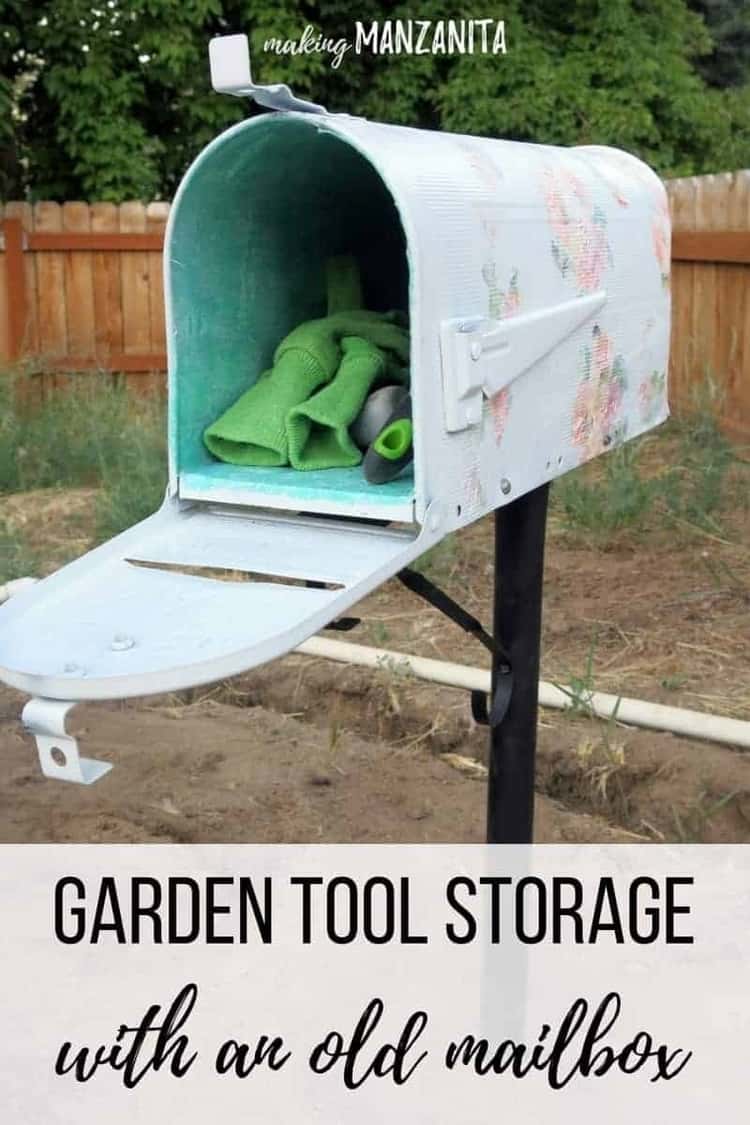 12. Hang Garden Tools on Pegs on the Wall
Install strips of wood along the wall with pegs, knobs, or hooks for hanging your tools. You can space them out so all your gardening tools fit nicely on your wall. This works for hanging other items as well, like hats, beach bags, or even coats. Find an empty wall that's conveniently placed for this clever idea. This almost looks too pretty to touch!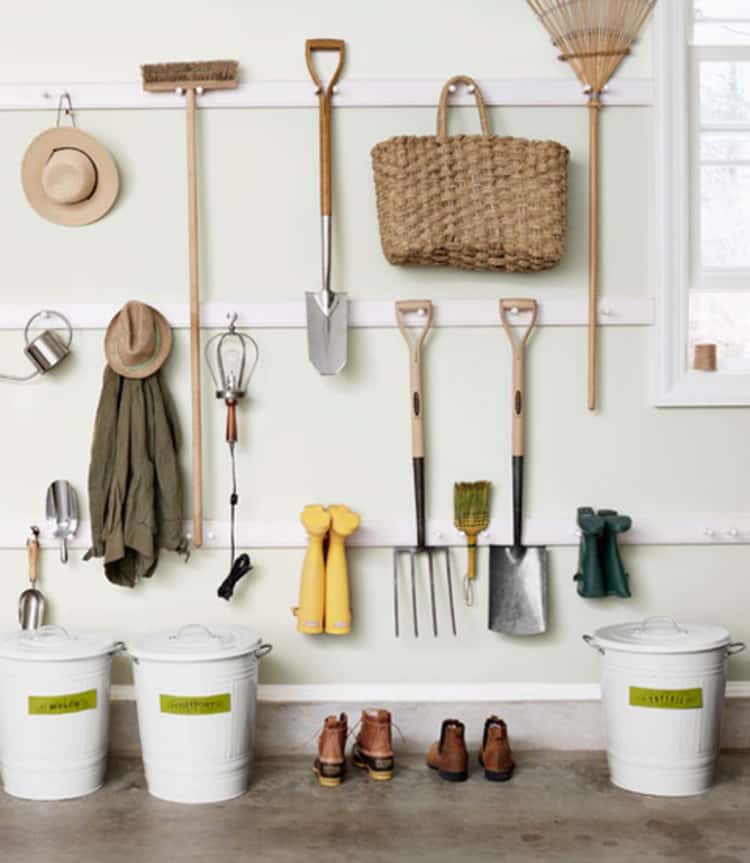 13. Clay Pots for Your Garden Tools
What a simple, low-cost idea that anyone can use. Fill clay pots with sand and stick your hand tools in them to keep them sharp and organized. You can even have more than one of these placed in handy locations. It really works! What a clever way to store your tools.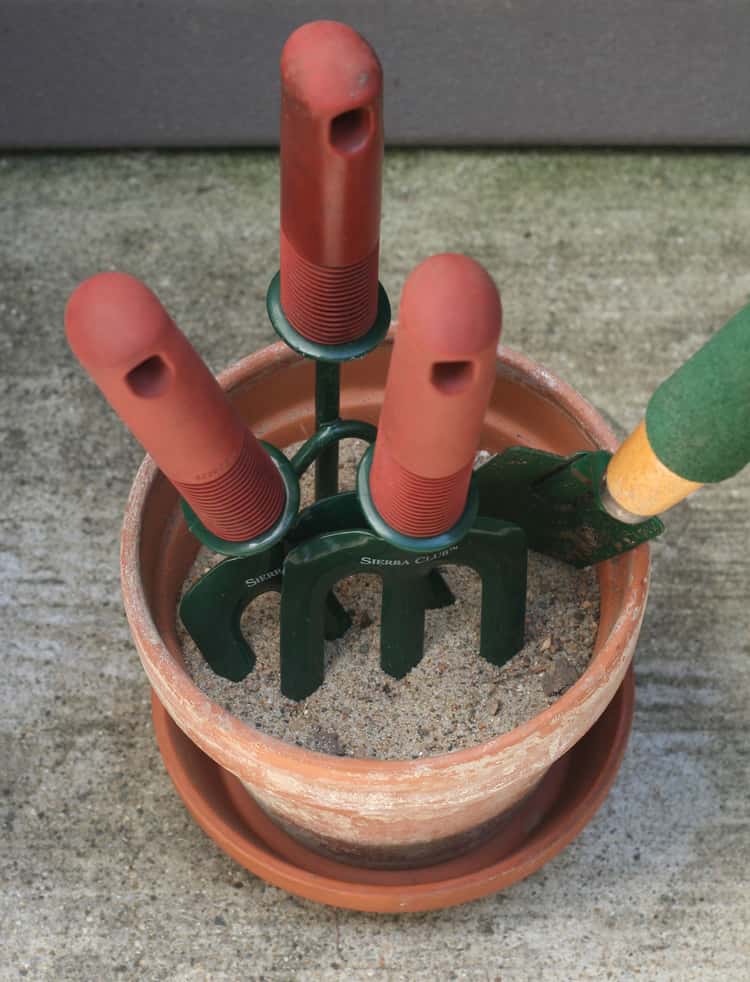 14. Convert an Old File Cabinet into Storage
Can you believe this used to be an old file cabinet? Convert yours into tool storage by removing the drawers, turning the cabinet on its back, and installing pegboards on the ends. Give it a fresh coat of paint and add a stripe if you like. Attach wheels to the bottom so it's easy to move around. This will look great up against the wall of your garage!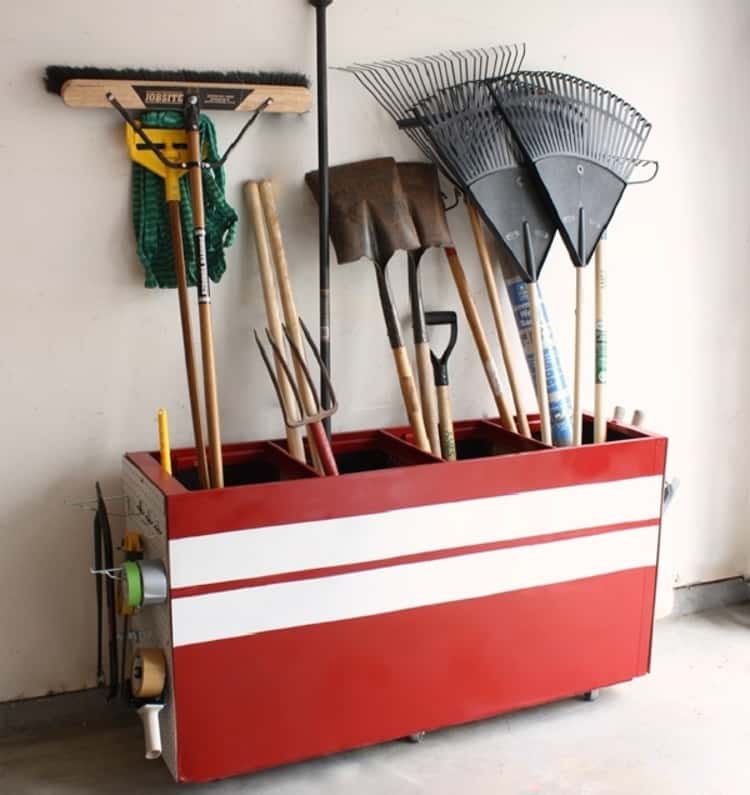 15. Spigot-Handle Garden Tool Rack
Use scrap wood and old knobs and spigots to create a rustic, weathered garden tool rack. Adding a shelf at the top of this makes it handy to hold your flower pots and other items. Your spigots can be used to hang all your garden tools and other items, like your garden hat or bag. Place this on a wall near your garden and you won't have to go far to collect your tools. What a clever garden idea!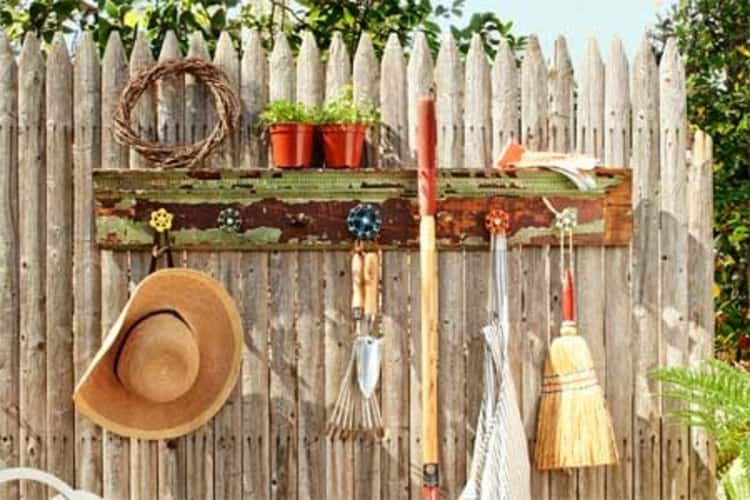 16. Garden Tool Organization Using a Pegboard
And, finally, let's not forget one of our favorite organizational tools: the pegboard! Here's a garden tool pegboard you can install in your shed or garage to keep everything neat and organized. You can even turn the whole wall into a pegboard if you like. It's nice to have everything you need right at your fingertips. I love having all my garden tools in one place!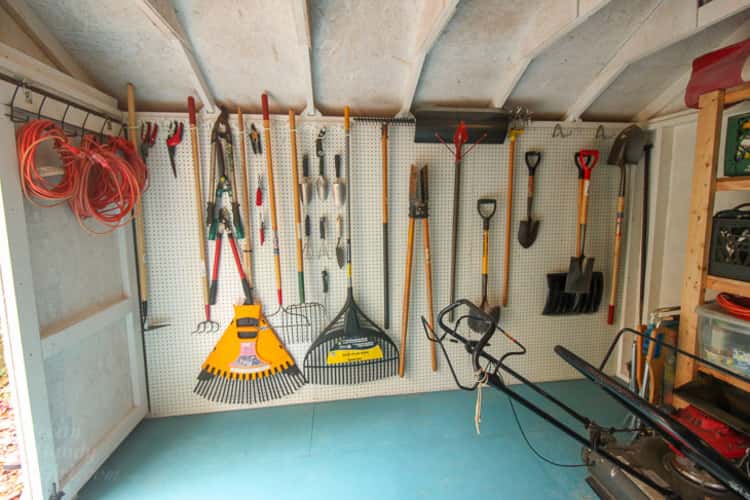 People Garden for all Sorts of Reasons
People love to garden for different reasons. Some people like to grow fresh fruits and veggies to use all year long. And others wanna grow the prettiest rose bush on the block! If you've been gardening for a while, you've likely amassed quite the collection of garden tools. These garden tool organization tips should help keep your tools neat and off the ground.
Need more gardening tips? Don't miss our post on Pet-Friendly Gardening Products! We also have other gardening ideas below to make your gardening as enjoyable as possible. No matter if you're a beginner or have been gardening for years. There should be an organizational idea that would work for you.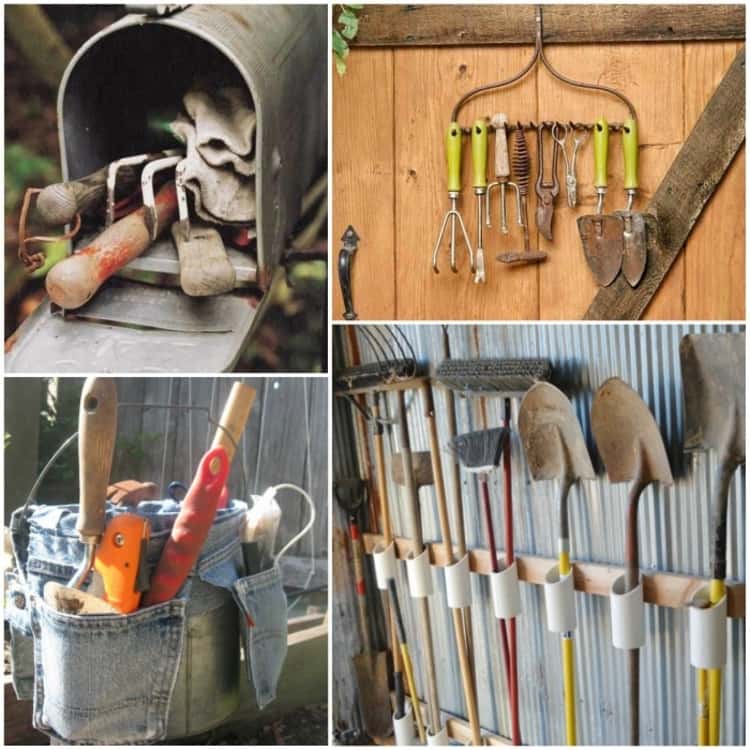 Love These Garden Tool Organization Tips? Here are More Amazing Garden Ideas:
The post 16 Genius Garden Tool Organization Ideas appeared first on DIY House Hacks - One Crazy House.